Digestive Support Formula (Capsules)
Digestive Support Formula (Capsules)
$69.00
Designed to help support the digestive system and gut permeability.
Best when used with our enzymes and probiotics which can be purchased as a kit.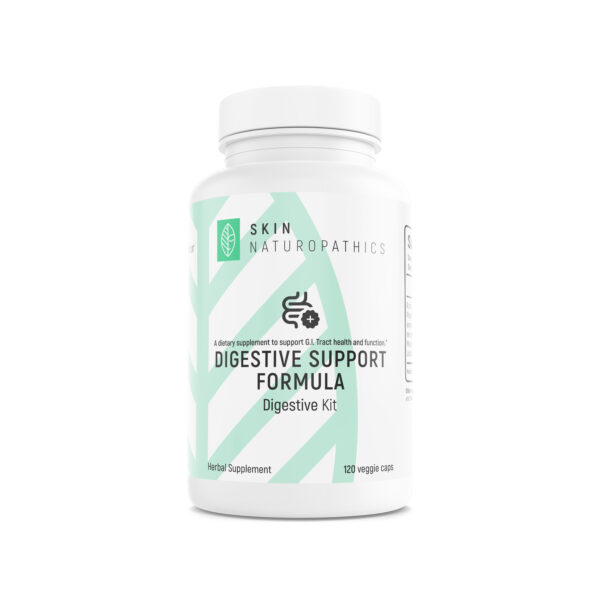 Digestive Support Formula (Capsules)
Only logged in customers who have purchased this product may leave a review.
Related products
A unique combination of protective ingredients that work synergistically to:

Support cartilage and collagen regeneration by providing raw materials for production of glycosaminoglycans (GAGs)

Support moisture retention, collagen production and skin elasticity

Balance inflammatory mediators like cytokines and prostaglandins

✔ BioCell Collagen® : BioCell Collagen® is made from 100% pure, hormone and antibiotic free, low molecular weight hydrolyzed chicken sternum cartilage extract, thereby providing remarkably high bioavailability and purity."

Indicated for Candida overgrowth and potential bacterial infections in the stomach and small intestine.

May help reduce redness in the skin and eruptive skin issues.

Best when used as part of our XMA kit for eruptive skin conditions.

Supports bacterial balance in the gut that may lead to the reduction of breakouts and pimples on the skin.

Best when used as part of our Digestive Balance Kit which also includes Digestive Enzymes and Digestive Support Formula.

–

If you eliminate less than 2-3 times a day or have irregular bowel movements including urgency and consistency, this gentle colon formula may help balance the bowels and colon for more regular bowel movements. *This is not a medical claim.

Add this on and take it with the Balance kit. This formula is gentle and safe for long term use.

A pure N-Acetyl-Cysteine supplement.

NAC is an anti-oxidant that normalizes ovulation and improves egg quality. It also supports healthy glucose metabolism and is the precursor to the production of glutathione, the bodies master anti-oxidant and detoxifier.

NAC also supports healthy tissues for women who are prone to ovarian cysts, fatty liver and may support other menstrual irregularities.

Indicated for women who suffer from heavy bleeding associated with their menstrual cycle.

May also assist in normalizing the cycle and reducing other negative symptoms associated with that time of the month.

A digestive enzyme supplement to support digestive tract function and nutrient absorption.

Enzymes help the stomach to better break down foodstuffs.

Maybe beneficial in balancing breakouts by supporting the bodies digestive process.

Adresses the uncomfortable scratchiness associated with red, flaky and peeling skin conditions.

A formula customized to address male hormones like testosterone.

Ok for use on all ages over 12.

Add this to your Step One Cleanse Kit and continue taking for the duration of your program, we recommend for at least 90 days.